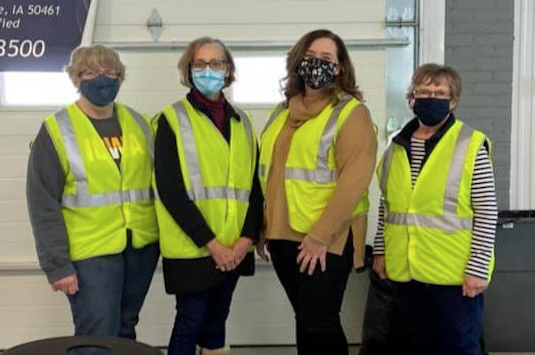 WENS Assists in Mass vaccinations in Mitchell County
Despite a blizzard that closed schools and left cars in ditches, around 100 residents received their first COVID-19 shots at a Mitchell County Public Health mass vaccination clinic on Thursday.
Any senior 65 and over could get inoculated. Around 15 staff and community volunteers shouldered the workload for this big step in fighting COVID-19. The seniors present expressed their appreciation to Mitchell County Public Health Coordinator Jessa Ketelsen and the soldiers on the front line. The event was a kind of triage.
"They said we had a well-oiled machine here in Mitchell County," Ketelsen said of those receiving their doses that day.
There were few cancellations due to the weather. Public Health informed residents they would hold vaccines for those who could not make it.
"It went really well for our first one," said Ketelsen. "The snowstorm didn't hinder it much, and it flowed smoothly."
Public Health found out Monday that vaccines would be arriving in Mitchell County. After receiving an alert from the Wireless Emergency Notification System, or WENS, seniors could sign up for the clinic. There were several lines open and the appointments were booked fast. In half an hour, all 100 slots were filled.
Until the second round of inoculations, the rate of immunity is around 50 percent. After the second dose, that figure rises to 94 percent.
And though supplies were limited, that immunity to COVID-19 could indirectly prevent infection for others who did not receive the shot – half of those 100 seniors will not get sick and shed the virus in Osage and other nearby towns.
However, those who receive their shots must continue to take precautions and wear masks.
"It feels good," Ketelsen said of watching seniors file through the site. "It was amazing. I'm glad we're able to do this for our county. I just wish we had enough vaccines to vaccinate everyone."
Late Friday morning, Ketelsen got her wish. She found out more vaccines were on their way to Osage. On Tuesday, 150 more residents will receive their first round of shots, beginning at 8:30 a.m. All appointments are already filled. It will take around four hours to vaccinate all 150.
As well, on Friday, Public Health set up a mass vaccination at the Saint Ansgar School District. Around 86 staff members were vaccinated in one hour.
Next Friday, doses will be administered at the Osage School District beginning at 6:30 a.m.
When more vaccine arrives in Osage, a Wireless Emergency Notification System text message will inform the public when appointments are available.
In addition, according to Mitchell County Public Health, it has made the decision to discontinue the Osage Test Iowa Site. Public Health states the choice to move on from testing is the result partially of the introduction of vaccines.